During the first years of elBullifoundation's life, we have listened to many experts and have studied and analyzed hundreds of references on how to understand it, how to learn it, etc. As we got into the subject, the project became, first of all, to understand how it is understood.

To understand how it is understood, the first thing to keep in mind is that it is the human being who understands. Understanding how the human being works and understanding ourselves as individuals can help us understand things better.

It is especially useful analyze our learning process. It can help us, for example, to identify our conditioning factors and biases, or to assess our capabilities and identify our strengths and weaknesses.
Each person is different and understands differently. A very relevant factor is experience. The accumulation of experience, and specifically of learning experience, allows us to learn to learn: to be aware of learning and to manage our own learning. Understanding consciously, being aware of learning and managing our own learning, allows us to be free.
When we talk about understanding, we also have to ask ourselves: understand that? The answer is to understand things. But they are many different things at the same time depending on for whom and their point of view. Sapiens aims to understand complexity, and the first thing is to accept that everything is very complex.

Data, information and knowledge are terms related to understanding that can lead to confusion. From our point of view, they define different concepts, each of which is the basis for the next. Data is the minimum unit of knowledge. Information is a set of data that, organized, form a structure. Knowledge is the accumulated and processed information, which implies a process of assimilation, integration and reorganization. Understanding is turning information into knowledge.

In the process of assimilation, integration and reorganization, the capacity for analysis, synthesis, reasoning and reflection intervenes, and interconnections between information are made. It is impossible to have all the knowledge, but we believe that there is minimal or essential knowledge that is essential to understand a topic: the essential knowledge that helps us make connections.

When we at elBullifoundation started researching, we wanted to understand things, and we realized that we first had to understand how to understand things. After listening to many reflections, we came to the conclusion that is understood by connecting knowledge. So the big question is how knowledge is connected.

There are two different aspects: one thing is how it connects at the physical (neurological) level and at the mental level, but another thing is how it connects at the conceptual level: how concepts are connected, with what methods, with what criteria.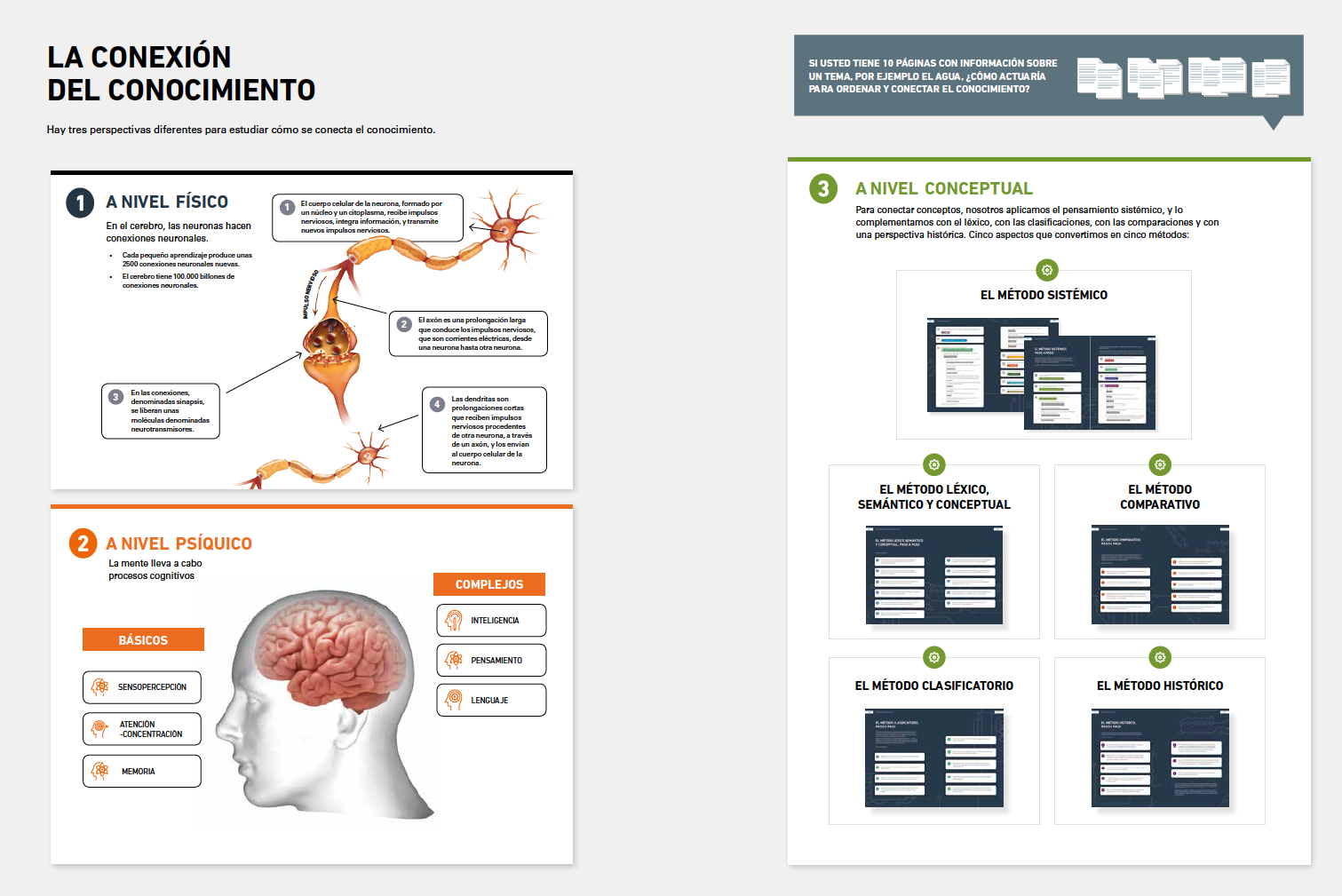 As for the first part, at the physical and mental level, scientists are working to understand how the brain works in terms of neural connections and the functioning of the mind. There are some basic cognitive processes (sense-perception, attention-concentration and memory) that allow some complex cognitive processes (intelligence, thought and language).

But we are referring to the second part, at the conceptual level. When we have data, information, how is this connected? For example, when making a book, how do you decide the structure, how do you decide how the index of a book should be? Our proposal to do so is Sapiens.

We call essential knowledge connected to the minimum knowledge on a topic together with the development of interconnections. Knowledge that can be very complex. What looks like a topic is actually a mix of many different topics, or the relevant subsegments of many different topics.